A petty legacy: Reducing pre-trial detention overcrowding by ending the criminalisation of poverty and status
---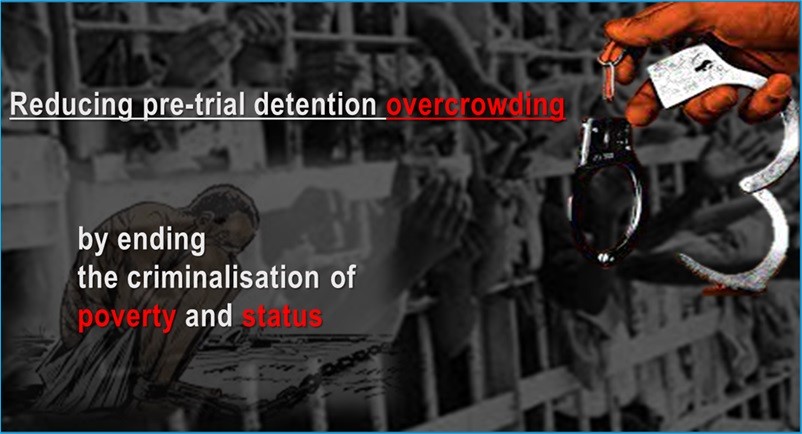 June 18, 2022
By: Louise Edwards[1]
A troubling legacy of the shared colonial history across the Commonwealth is the inheritance of criminal laws that, despite independence and democratic transformations, have either remained unchanged, or have been retained in some form. This is particularly evident in the existence and enforcement of colonial-era 'petty offences' that target multiple marginalised constituencies, including homeless people, the LGBTIQ+ community, people with disabilities, sex workers, informal traders, and individuals who otherwise use public spaces to earn a living. These laws essentially punish people for who they are and remain in force across most former British colonies, despite the foundational laws from the 19th and 20th centuries having long since been repealed in the United Kingdom.
The purpose of these laws was to, inter alia, control the movement of people, segregate the use of public spaces and prevent property crime, by providing law enforcement officials with broad, discretionary powers to stop, arrest and detain people deemed 'undesirable' or visibly poor. Their effect is the criminalisation of poverty and status, which undermines the rights to equality and security, freedom from arbitrary arrest and detention, and freedom from cruel, inhuman or degrading treatment. In many countries, the enforcement of petty offences contributes significantly to prison overcrowding, particularly in pre-trial detention, where accused persons can end up spending longer periods in custody awaiting trial as opposed to serving out the maximum sentence available for the offence.
The challenge posed by the criminalisation of petty offences has been recognised by African regional human rights mechanisms, with the recent emergence of a normative framework to promote the review of criminal law with a view to repealing of these offences as part of the human rights obligations of African Union (AU) Member States. This emerged from the African Commission on Human and Peoples' Rights' (ACHPR) 2002 Ouagadougou Declaration, which included, amongst its strategies for reducing overcrowding in prisons, the decriminalisation of offences including those of being a 'rogue and vagabond', loitering, sex work, failure to pay debts, and disobedience to parents. The ACHPR followed this up in 2017 with the Principles on the Decriminalisation of Petty Offences in Africa. The Principles reiterate that the criminalisation of petty offences are inconsistent with guarantees of freedom from discrimination, ill-treatment, arbitrary arrest and detention, and call on states to decriminalise petty offences. In its 2020 Advisory Opinion on this issue, the ACHPR affirmed this position, with states now having a positive obligation to reform criminal laws that criminalise vagrancy, and to end the practice of arbitrary and unlawful arrests for these offences.
Promoting implementation by AU Member States of the Principles and Advisory Opinion has now become a key focus of the Global Campaign to Decriminalise Poverty and Status, which began as an African movement, but has expanded to include work by partners in South Asia, the Caribbean and at the international level. The Campaign works to achieve, inter alia, the repeal and reform of outdated and colonial-era penal laws that have a disproportionate impact on the poor and others who experience discrimination and exclusion because of their status. In Commonwealth partner countries, this has included litigation to challenge these laws, including the successful repeal of the 'rogue and vagabond' offence in Malawi, an award of damages to a transgender person for being wrongfully arrested for being a criminal nuisance in Zimbabwe, and the recent filing to challenge the criminalisation of homelessness by 11 affected people in Cape Town, South Africa. In terms of advocacy, partners in Uganda contributed to a Presidential directive to stop arrests on the basis of being 'idle and disorderly', and to release all persons held on this charge, while in Kenya, advocacy by partners led to the establishment by the Chief Justice of Kenya of a National Steering Committee to review petty offences, and the issuance of practice directions by the Director of Public Prosecutions on handling the offence of touting.
As a significant driver of arbitrary arrest, and to pre-trial detention overcrowding, across Africa, the criminalisation of poverty and status is an often over-looked, but critical, human rights concern affecting equality, access to justice, and sustainable development. The criminalisation of people on the basis of their poverty and/or other status entrenches both inequality and exclusion, and reinforces the structural barriers that perpetuate the cycle of poverty, which in turn undermines efforts by States to promote sustainable development. Through a mix of law reform, policy, research, advocacy and litigation, the Global Campaign is working to address these challenges, and to promote an approach to the management of public spaces that protects economic, social, and political inclusion. In this era of sustainable development, it is time for all African countries of the Commonwealth, and those across the association as a whole, to review and repeal outdated colonial-era and other laws that penalise the poor and marginalised because of who they are.
---
[1] Louise Edwards is the Director of Research and Programmes, African Policing Civilian Oversight Forum (APCOF), South Africa.