Domestic Work is Work: Using ILO Convention 189 to Protect Workers' Rights Across the Commonwealth
---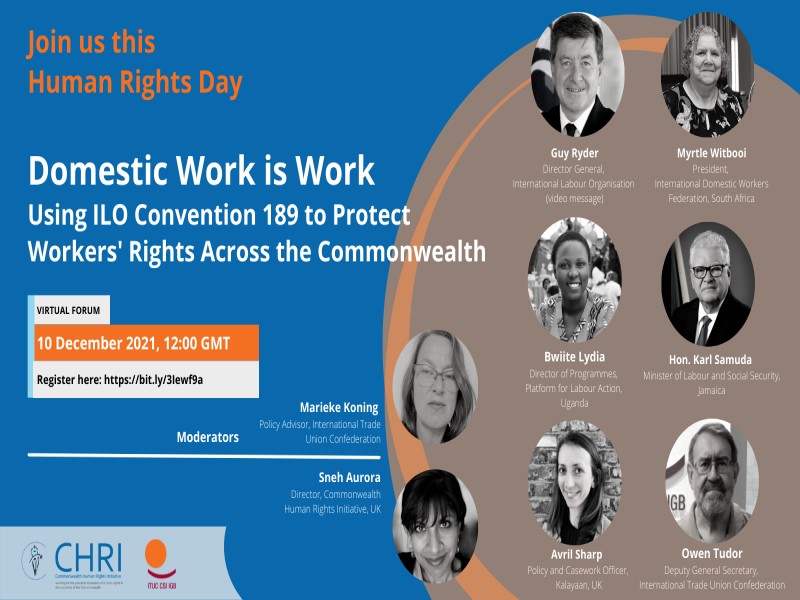 Date: 10 December 2021 (Human Rights Day)
Time: 12:00 - 13:30 GMT // 14:00 - 15:30 SAST // 17:30 -19:00 IST
Where: Virtual (Zoom)
The COVID-19 pandemic exacerbated the vulnerabilities of the roughly 67 million domestic workers worldwide, most of whom are women. As a group that is already vulnerable to abuse and exploitation, domestic workers have struggled to maintain livelihoods, access social protections, and protect their health throughout the pandemic. It is more crucial than ever to protect the rights of domestic workers.
2021 marks the 10th anniversary of the Domestic Workers Convention (C189), which is a landmark international treaty requiring decent work for domestic workers. On 10 December, International Human Rights Day, the Commonwealth Human Rights Initiative (CHRI) is launching a report to inform good practice to inspire action and raise awareness of the importance of ratifying C189.
Representing 2.4 billion people across 54 countries, the Commonwealth can lead on ratifying and implementing C189. However, only 5 of 54 Commonwealth countries have ratified and brought C189 into force to date. At 9%, this is close to half of the global rate. This is a global issue.
We need diverse voices and powerful coalitions to rise up, push for change, and hold our states to account.
This forum will focus on challenges facing domestic workers in Commonwealth nations that have yet to ratify C189 (United Kingdom, Uganda, India, Papua New Guinea, and Dominica). It will also cover good practice within States that have ratified C189 (Jamaica and South Africa). Finally, it will explore actions that Commonwealth states and civil society can take to support domestic workers and promote C189.
Who is this forum for?
Union voices, civil society, including advocacy organisations and research institutions, and Commonwealth governments.
What will be discussed?
A panel of expert panelists will share:
Good practice in states that have ratified C189
How C189 can practically improve the rights of domestic workers
The success and challenges of Commonwealth governments on ratifying C189
The path forward for action on C189
In this time of great uncertainty and increased vulnerability for domestic workers, it is essential that assorted voices from across the Commonwealth band together and push to protect these valued members of our societies and economies.
Moderator:
Marieke Koning
Policy Advisor, International Trade Union Confederation
Speakers:
Guy Ryder
Director General, International Labour Organisation (joining by video)
Sneh Aurora
Director, Commonwealth Human Rights Initiative UK
Owen Tudor
Deputy General Secretary, International Trade Union Confederation
Myrtle Witbooi
President, International Domestic Workers Federation
Bwiite Lydia
Director of Programmes, Platform for Labour Action - Uganda
Avril Sharp
Policy and Casework Officer, Kalayaan